CDL Owner Operator Truck Driver Job in Atlanta, GA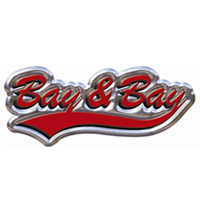 Bay & Bay Trucking
Company Phone
(888) 560-2109
Company Website
http://www.bayandbaytrucking.jobs
Job Type
Full Time
Location
Atlanta, GA
Address
Atlanta, GA
Description :
CDL Owner Operator Truck Driver Job – Atlanta, Georgia
At Bay and Bay, you're not a number. We're large enough to keep you loaded, and we are small enough to know your name.
Largest pay increase in company history effective April 1, 2015


Earn over $60,000 annually
Company Driver
Lease Purchase
Owner Operator
Bay & Bay Transportation is Hiring Company Drivers and leasing Owner Operators from the following areas:
Midwest to East Coast, and South to Carolina's.
Facts about Bay and Bay
Average length of haul is 800 miles.
Drivers average 2,800 – 3,100 miles per week.
Bay and Bay has a true open door policy.
Primary freight routes are Midwest to the Northeast and Southeast.
Tractor average age is 2.5 years old.
If you wish to expedite the process and do not want to wait for a call, please call us at 888-560-2109.
Over The Road Drivers
National Solo (7-14 days out)
Owner Operator (7-14 days out)
Lease Purchase program available — No Money Down!!!!!!!!!!
Equipment
Late model condos- Freightliners
No slip seating, the truck is assigned to you.
Less than 18 months of experience must be approved with Safety.
12-24 months of experience starting pay =.33
After 6 months increase .01 (.34) – Automatic
After 1 year increase .01 (.35) – Automatic
After 24 Months increase .01 (.36) – Automatic
Annual increase of .01 if standards are met.
Over 2 years and less than 5 years of verified experience starting pay =.35
More than 5 years of verified experience starting pay =.36
More than 5 verified years with current company = .01
**Currently the fleet average is an additional .05/mile in incentive and accessorial pay.
Job Requirements:
Qualifications:
21 years old
1 year verifiable solo OTR experience in the operation of like Tractor/Trailer equipment
No more than two (2) preventable accidents in the last three (3) years and/or no Preventable DOT recordable accident in the last three (3) years
No more than four (4) moving violations in the last three (3) years, nor more than two (2) moving violations in the last twelve (12) months
Serious Traffic Violations (as defined by the Federal Motor Carrier Safety Regulations) will be reviewed by the Safety Department
Must obtain at least a 12 month medical certification
Must pass a road test or equivalent as stated in FMCRS 391.33
Must pass a pre-qualification drug screen
Must have a valid Commercial Drivers License in state of residence
Must meet all Federal Motor Carrier Safety Regulations
Must read and write English language
Serious Traffic Violations That Disqualify:
Reckless/careless driving
Hit and run, leaving the scene of an accident, failure to report an accident
Excessive speeding (15 mph or more over the posted limit)
Improper or erratic lane changes
Following the vehicle ahead too closely
Must have no DUI/DWI in a commercial vehicle ever and/or no DUI/DWI in a personal vehicle in the last five (5) years
Violation of a driver or vehicle Out of Service Order
Texting while driving
Driving Experience:
If only six (6) months experience, must be most recent six (6) months
Must have at least eighteen (18) months verifiable experience in the last three (3) years in the operation of like tractor/trailer equipment.
No more than three (3) jobs in the last twelve (12) months
Driver Benefits
Medical/Health Insurance
Vision Insurance
Dental Insurance
Life Insurance
Retirement/401K
Cargo/Collision/Liability Insurance
Fuel Surcharge
Lease Purchase Available
Paid Weekly
Layover Pay
Pickup/Drop Pay
Per Diem
Paid Vacation
Holiday Pay
Direct Deposit
Atlanta, Georgia OTR Class A CDL Truck Driving Job
Bay & Bay Trucking OTR Class A CDL Truck Driver Job in Atlanta, GA

How to apply :