Company Overview

Boyd Bros. Transportation Inc. is a flatbed truckload

carrier that operates throughout the eastern two-thirds of the United States, hauling primarily steel products and building materials. In these markets, Boyd Bros. serves high-volume, time-sensitive shippers that demand time-definite delivery. Boyd Bros. was founded in 1956 and is a part of Daseke Inc., one of the largest open-deck/specialty fleets in North America.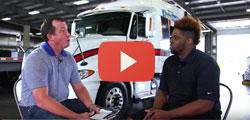 The best flatbed truck driver jobs are right here at Boyd. Bros- the company the best drivers call home. And now, you can take advantage of our new and industry leading pay package!
Average .65 CPM with Boyd Bros.!
Qualifications
»

Class A CDL

»

At least 22 yrs of age

»

3 months Flatbed experience

»

No more than 2 moving violations in the past 3 years

»

No more than 2 preventable accidents in the past 3 years
Boyd Bros. Driver Job Application