Company Overview
Boyd Bros. Transportation Inc. is a flatbed truckload carrier that operates throughout the eastern two-thirds of the United States, hauling primarily steel products and building materials. In these markets, Boyd Bros. serves high-volume, time-sensitive shippers that demand time-definite delivery. Boyd Bros. was founded in 1956 and is a part of Daseke Inc., one of the largest open-deck/specialty fleets in North America.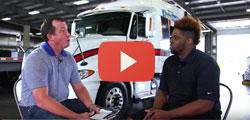 Flatbedders know Boyd Bros., and you should too. The happiest flatbed drivers in America drive for Boyd Bros. From great sign-on bonuses and competitive pay to experienced fleet managers and support for your driving career, we are the carrier for flatbed drivers.
Company Benefits
Average 60 CPM & earn top pay with 2 years' experience (PLUS 2 CPM Merry Miles Bonus)

NEW! Competitive Pay Package!!
»

4 CPM pay increase (Average 60 CPM)

»

$900 weekly minimum guarantee

»

$4,000 stock grant for company drivers

»

2 CPM Merry Miles Christmas Bonus

»

Monthly Performance Bonus

»

401k match
* Independent Contractors and LP Contractors are not eligible for minimum weekly guarantee.
Boyd offers drivers:

»

Home weekly- 95% of drivers are home each weekend!

»

Quality flatbed freight – 30% drop & hook freight

»

Rider program

»

Stop-off pay, detention & per-diem pay

»

BlueCross/BlueShield

»

Late model equipment

»

No slip seating & you can take your truck home
Qualifications
»

Class A CDL

»

At least 22 yrs of age

»

3 months Flatbed experience

»

No more than 2 moving violations in the past 3 years

»

No more than 2 preventable accidents in the past 3 years
Boyd Bros. Driver Job Application