Company Overview
Why Join NCI?
Because our drivers say so!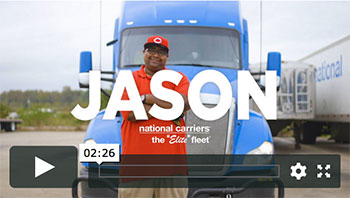 Make a change for the better with the "Elite" fleet
Company Benefits
Benefits to Boot
»

Health and life insurance for you, your spouse, and children.

»

A company-sponsored 401(K) plan. We match a portion of what you contribute so you can have more when you retire.*

»

Paid vacation and holidays so you can take a family road trip or spend some time at home.
Equipment Other Fleets Envy
»

Trucks. Late-model Kenworth T-680s. 100% automatic fleet.

»

Trailers. Experience a smooth haul pulling our Utility refrigerated trailers with SmartTruck UT6 aerodynamics.
Business That's Personal
»

Welcoming workplace. Our drivers are known by name and get the support they deserve from dispatch to management.

»

Dependable home time. Steady freight doesn't just mean reliable work and pay; it means reliable home time.

»

Rider and pet policy. Bring your loved ones and pets to make those miles pass faster.*
* Some conditions apply
Qualifications
»

CDL A

»

Minimum Age: 21 years

»

Minimum Experience: 6 months.

»

Ask about our Student Program if you have a CDL A, but not enough experience.

»

DWI Convictions: Must be 5 years ago

»

Moving Violations: Only 3 last 3 years

»

Preventable Accidents: Only 3 last 3 years
National Carriers Driver Job Application