Regional Dry Van Driver Job in Trenton, NJ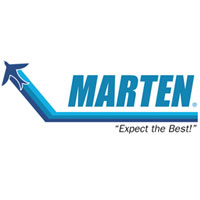 Marten Transport
Company Phone
920-620-6579
Job Type
Full Time
Location
Trenton, NJ
Address
Trenton, NJ
Description :
Regional Dry Van Driver Job – Trenton, New Jersey

GL NE POD General
CDL-A Truck Driver Jobs:

Guaranteed $70,000/yr minimum pay. Top Drivers earn $100,000+
Guaranteed minimum weekly paycheck on every route! $750 Hiring Bonus!
Don't Wait, Call Now! 920-620-6579
No carrier pays you better than Marten. With our weekly guaranteed pay, drivers are taking home a minimum of $70,000 yearly. Our top drivers are earning $100,000+ or more every year. For a limited time, we're offering a $750 hiring bonus on your first paycheck.
Marten even pays when you're stopped. You'll get bad weather, detention, and layover pay with our amazing benefits.
Let Marten take care of you like no other carrier.
Call or apply today to get started right away!
Benefits:
$70,000+ Guaranteed Yearly Salary

Top Drivers Earn $100,000+ Yearly

$1,350 Guaranteed Weekly Pay

Get More Home Time

$750 Hiring Bonus on 1st paycheck

Detention Pay = Up to $195 per day
Inclement Weather Pay = Up to $250 per day
Layover Pay = Up to $250 per day
Weekend Layover Pay = Up to $300 per day
DriveWyze Carrier
Late-model equipment with APUs – average 2 years or newer
Marten is a TOP PAY Certified Carrier
Qualifications:
Current CDL-A
At least 22 years of age
Minimum 6 months recent qualified CDL-A driving experience
Home time and pay may vary by hiring area and specific route details ask a recruiter for details
Marten does not provide CDL training
Advantages:
Health, Dental, Vision and 401k
Paid Vacation
LATE MODEL FLEET under two years average age
Automatic TRANSMISSION trucks improve fuel economy and are driver friendly
GRILLE GUARDS protect drivers and equipment from unnecessary down-time associated with animal collisions
Top Speed – 68 mph passing feature: governed at 65mph jump to 68mph to allow passing
Pet Policy
Trenton, New Jersey Regional Dry Van Driving Job
Marten Transport Regional Dry Van Driver Job in Trenton, NJ

This job originated on HiringDriversNow.com
How to apply :