Company Overview
At USA Truck, we're committed to a positive driver experience for all CDL-A truck driver types from all walks of life. We offer a long list of unique advantages no other carrier can beat! Take a closer look at our truck driving career options and our DRIVE USA benefits, then connect with us to get started!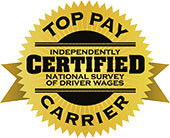 USA Truck is seeking regional, dedicated, local/shuttle drivers and owner operators! Call us today 877-869-0709 to learn more or apply today and join the team at USA TRUCK!
Company Benefits
Take a look at our unique DRIVE USA advantages!
»

Drive Healthy – Medical, Dental, Vision Benefits

»

Drive Protected – Variety of insurance options for you & your family

»

Drive at Peace – Employee Assistance Program

»

Drive Retirement – 50% of first 4% match/employee stock ownership program

»

Drive Holiday – 7 paid holidays

»

Drive Vacation Time – Paid time off based on years of service

»

Drive Larger Paychecks – Enhanced Per Diem plan in 2021

»

Drive Plus 1 – Rider program

»

Drive Furry – Pet-friendly company

»

Drive Learning – Trainer program up to $110K
Qualifications
»

Must be at least 21 years of age

»

No more than 3 moving violations in last 36 months

»

No more than 2 preventable collisions, incidents, or accidents in last 36 months

»

No DUI, DWI, or moving violations involving drugs or alcohol in the last 3 years

»

Stable work history

»

Valid CDL-A and Medical Card