Company Overview
Company Truck Drivers/Owner Operators
Earn up to 60 cpm at Marten Transport! These added earnings are the total you will earn after all our fantastic extras are added such as detention pay, breakdown pay, safety bonus, mileage bonus & more! As a certified Top Pay Carrier, we offer excellent rates plus weekly home time on Marten's 100% dedicated routes.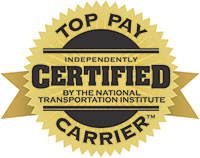 How can you earn more?
Automatic detention after 1st hour
Inclement weather pay
Mileage, safety & referral bonuses
Breakdown & extra stop pay
Multiple bonus opportunities
Contact us today to learn more or APPLY NOW!
Marten is a Certified Top Pay Carrier! We offer the professional driver the right combination of opportunity, support and drive. Marten has been providing superior time and temperature-sensitive transportation services for more than half a century. With our "Fair Pay" pay scale, AUTOMATIC DETETNION PAY AFTER ONE HOUR, top of the line Equipment, $100 Layover Pay Policy, and so much more…we provide an expectation for the best!
MARTEN offers great driving opportunities for BOTH COMPANY DRIVERS & OWNER OPERATORS. With Marten's outstanding regional runs, you can expect more home time & more money!
IT'S TIME TO RETHINK REGIONAL! Marten regional routes give drivers top pay on excellent regional runs, the same great Marten equipment & benefits, a Fleet manager based in your home terminal for quality, one-on-one contact & steady miles every week! Marten drivers experience pay and rate increases, automatic detention pay after just one hour, and new terminals to make life on the road a little easier. Join the Marten team today!
Make your move and EARN MORE in two steps with the MARTEN MATCH-UP!
Share your latest paystub and you can earn a 2 CPM raise two ways:
1. If your paycheck shows you to be a productive driver with your existing carrier, you'll get a 2 CPM raise as soon as you start with Marten.
2. If you do not meet the production goals right away, you'll have six weeks to meet them. Do so by the end of six weeks and you've earned your 2 CPM raise.
INCREASED Incentive Bonus!
$1,500 for first referred driver
$2,000 for any additional drivers referred within a year of the first referral possible!
Company Benefits
»

Referral Bonus

»

Performance Bonus

»

Safety Bonus

»

Health/Medical Benefits

»

Life Insurance

»

Dental Insurance

»

Vision Insurance

»

401K: Eligibility after 90 days of employment

»

Rider Program

»

Paid Orientation

»

Layover Pay

»

Paid Weekly
Qualifications
»

CDL Class A

»

At least 22 years of age

»

At least 6 months experience

»

Hazmat endorsement preferred (not required)

»

No more than 3 moving violations in the past 3 years

»

No more than 3 preventable accidents in the past 3 years
Marten Transport Driver Job Application