Company Overview
We are proud to share MILAN celebrated 50 years strong this year and are still rolling!
We are here to support those impacted by closures within the transportation industry, and especially those who may even be stranded on the road due to those closures.
If you or someone you know is looking for a new company to call "HOME", have them contact our recruiting team today! We are staffed and ready to assist drivers in joining #teammilan!!
Milan Supply Chain Solutions was founded in 1969 and is one of the most efficient and progressive supply chain, logistics and transportation companies in the industry. Our core values are at the heart of the Milan culture: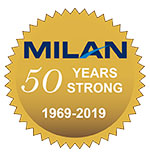 Safety
Integrity
Commitment to Excellence
Diversity
Teamwork
You will find very quickly that we not only embrace our core values, but also take great pride in bringing these values into our work life each day. We celebrate and recognize our employees for their accomplishments in each of these core areas.
We value our drivers and make Pay, Home Time, and Respect priorities. offer great benefits, a strong company culture, and a strong commitment to delivering world-class service. Talk to a recruiter today about the advantages of driving career with Milan, and Make Your Move to Milan!
Qualifications
»

CDL Class A

»

At least 1 year experience

»

At least 21 years of age

»

No more than 2 moving violations in the past 3 years
Milan Supply Chain Solutions Driver Job Application