Regional Dry Van Driver Job in Akron, OH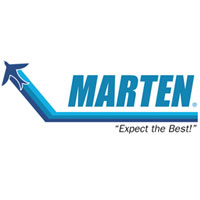 Marten Transport
Company Phone
608-736-0729
Company Website
Job Type
Full Time
Location
Akron, OH
Address
Akron, OH
Description :
Regional Dry Van Driver Job – Akron, Ohio

Great Lakes – Great Lakes Regional

Truck Driving Jobs – Regional – NEW Pay Guarantee – Earn $1,050+/week!
Detention pay starts the second you stop – adds up to an extra $6,000 a year!
Don't Wait, Call Now!
CDL A Truck Drivers – Drive a regional route in the Great Lakes area. You can get home every other weekend or weekly depending on where you live. Plus, with Marten's NEW Pay GUARANTEE, you will earn at least $1,050 every week!
And with Marten's Exclusive Pay Boosters, you can average 62 CPM – including immediate detention pay, weather stop pay, breakdown pay and more – all starting the second you stop!
Start driving with a company that gives you more. More HOME TIME and MORE PAY.
Call Now and Get Started Right Away.
Benefits:
NEW Pay Guarantee – Earn $1,050+/week!

Home Weekly or Every Other Weekend – depending on where you live
Dedicated and Regional Available
Earn Top Pay
Pay Boosters to help you average 62 CPM
Premium Pay – Extra 2 CPM for staying out a full work week
Immediate Detention
Inclement weather pay
Mileage, safety and referral bonuses
Breakdown and extra stop pay
Multiple bonus opportunities
Paid Orientation
Late-model equipment with APUs – average 2 years or newer
Marten is a TOP PAY Certified Carrier
Qualifications:
Current CDL-A
At least 22 years of age
Minimum 12 months recent OTR experience
Home time and pay may vary by hiring area ask a recruiter for details
62 CPM represents the total you can earn after all of the Marten extras are added (detention pay, breakdown pay, safety bonus, mileage bonus etc.)
Advantages:
Health, Dental, Vision and 401k
Paid Vacation
LATE MODEL FLEET under two years average age
Automatic TRANSMISSION trucks improve fuel economy and are driver friendly
GRILLE GUARDS protect drivers and equipment from unnecessary down-time associated with animal collisions
Top Speed – 67 mph passing feature – governed at 65mph jump to 67mph to allow passing
Pet Policy
Akron, Ohio Regional Dry Van Driving Job

Marten Transport Regional Dry Van Driver Job in Akron, OH

How to apply :